Located in the heartland of Tanzania, Dodoma is the nation's official political capital and the seat of government in the country. Comparably, it is much smaller and less developed than the country's commercial center, Dar es Salaam.
Dodoma remains a center for national politics. Situated on the eastern edge of the southern highlands, the city of Dodoma is surrounded by a rich agricultural area and pleasant scenery. Dodoma has many places and items of interest to recommend to the passing visitor. It is the center of Tanzania's growing wine industry and the Tanganyika Vineyards Company is active in promoting its products.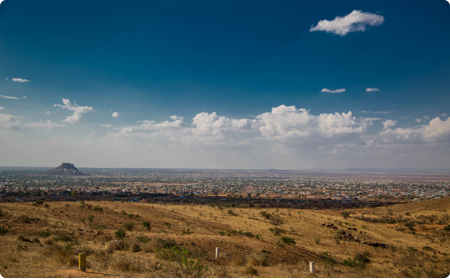 Historically, Dodoma was a stopover on the overland caravan route that travelled from the Swahili Coast inland toward Lake Tanganyika. Early in the 20th century, the city became a major point on the Central Line railway, which carried agricultural crops for export to the harbor in Dar es Salaam. In recent times, the town's economic base has declined in favor of the coastal city, but in the early days of Tanzanian independence, there was a popular political motion to move the entire government to the town in the southern highlands. These days, the government legislature meets in Dodoma, and divides its time between the inland city and Dar es Salaam on the coast.